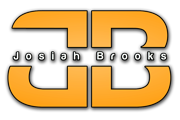 I write and record my own material, but I also record a lot of cover songs and videos.

I haven't made any music videos for any of my own songs yet because I'm still working on my upcoming album
but if you're still interested in seeing my take on other people's songs, with dorky expressions on my face...
You've come to the right place ;)



I share all my covers and some other original material for free:


Get Them Here!




How fun! Feel free to share them with your friends if you like them!

Any Original Content of JosiahBrooks.com is copyright to Josiah Brooks. Cover songs and music videos are entirely non-profit and are credited to the original Authors.